Beach Ju-Jitsu – Asia Edition
A festival of friendship, good mood and highclass sports happened in Pattaya Jomtien Beach. Thailand, UAE, Indonesia, Vietnam, China and Sri Lanka were present to fight for the medals and ranking points of Beach Ju-Jitsu.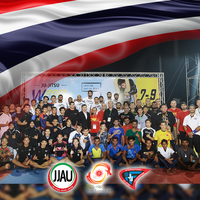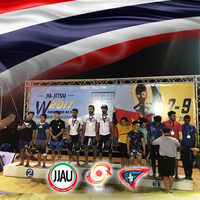 With 6 National Federations the second edition of the World Beach Ju-Jitsu Tournament showed a real international scale. The conditions were perfect and Ju-Jitsu Association of Thailand did a good preparation under the support of Ju-Jitsu Asian Union online registration and live result management which were used.
Over all disciplines and events team Thailand could win the most medals followed by UAE and Vietnam. First time the relay team fight was conducted. 3 competitors of different weight categories compete against another team and points are counted continuously. Submission will be scored as 30 points. The groups brought excitement in the games and in this event UAE was beating all other team but the second placed team Thailand was only a penalty behind the favorites. JJIF President Panagiotis Thoedoropoulos and Sportdirector Joachim Thumfart were present and supported the event.