WEST Asian Championship – Beirut/Lebanon 2015
The Bouddha Club Beirut had been hosting for many Martial Art events. First time Ju-Jitsu was guest for the first West Asian Championship.
Despite of difficult situations in the countries around 100 Competitors reached Beirut to compare their abilities in Ju-Jitsu.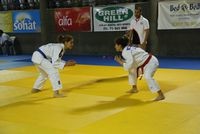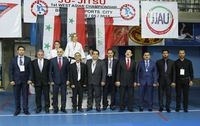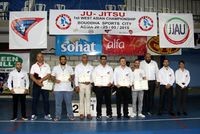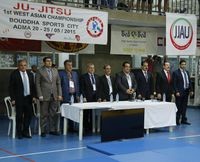 Especially the team from Syria showed a great performance winning the team ranking for women and the overall team ranking. The men ranking was dominated by the team of Iran, while the Iraqi delegation could present the best technical skills in the Duo competition. JJIF President Panagiotis Theodoropoulos observed the Regional championship with big interest and awarded the medals to the proud champions.
JJAU Vice President (West Asia) Dr. Mokhles and Francois Sade, president of Lebanese Ju-Jitsu federation, organized this event in close cooperation with the team from Ju-Jitsu Asian Union under leadership of Dr. Jaffer al Muthafer and Joachim Thumfart To rise the quality of competitions a 2 days seminar for referee and coaches was held and completed with examinations. JJAU can welcome two more international referee for Ne-Waza. Khalid Ghassan Al Salem from Kuwait Seyedamir Khoshbin from Iran received their diplomas from Alex Paz head of the referees in Asia. The second JJAU event of the regional format showed the good results of the continuous work.