Philippine Team in Ju Jitsu World Championship 2023- Ulaanbaatar, Mongolia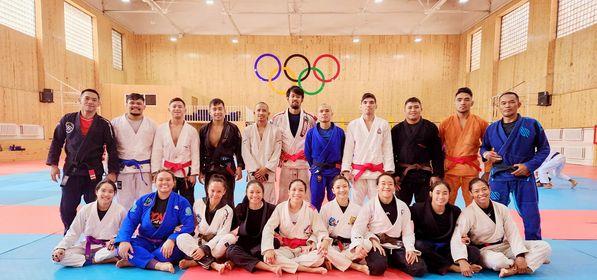 The Jiu-Jitsu Federation of the Philippines is sending 18 athletes to the World Championships scheduled from July 14 to 20 at the Steppe Arena in Ulaabaatar City, Mongolia.
Kimberly Anne Custodio, who ruled the women's -45kg last year in Abu Dhabi, United Arab Emirates (UAE), will banner the team leaving on Friday.
Also competing are 2023 Cambodia SEAG gold medalists Jenna Kaila Napolis, Annie Ramirez and Marc Alexander Lim, and bronze medalists Jan Vincent Cortez and Myron Miles Mangubat.
Custodio and Daniella Palanca are both entered in the women's -45kg division, Napolis is entered in the women's -52kg, while Lim and Mangubat will see action in the men's -62kg division.
Ramirez, who won three gold medals in different divisions at the SEAG, will compete in the women's -57kg and Cortez in the men's -56kg division.
Others in the line-up are Jollirine Co (women's -48kg), Andrea Lois Lao (women's -63kg), Anna Angelica Mitra (women's -70kg), Dylan Chrystle Reign Valmores (women's +70kg), Carlo Angelo Peña (men's -56kg), Michael Bryan Tiu (men's -69kg), Gerard Gallos (men's -77kg), Dean Michael Roxas and Luigi Joshua Ladera (men's -85kg) and John Alfred Raphael Arellano (men's -94kg).
Napolis, who delivered the Philippines' first gold medal in jiu-jitsu during the Cambodia SEAG last May, is hoping for the best in her third trip to the worlds.
"We are 20 in my division so it's hard to say what's my chance. But I am hopeful, I will do my best. The target is always to win the gold medal in every competition," said the 25-year-old resident of Muntinlupa City in an interview on Thursday.
In 2021, Napolis finished third behind gold winner Moldir Mekenbayeva (Kazakhstan) and silver medalist Duong Thi Thanh Minh (Vietnam). Last year, she failed to reach the podium.
Napolis won the silver medal at the 2019 and 2022 SEA Games, 2018 Abu Dhabi World Tour Grand Slam (United Kingdom) and 2017 Asian Indor and Martial Arts Games (Turkmenistan), and the bronze medal at the 2016 Asian Beach Games (Vietnam).
Custodio captured the bronze medal at the 2019 Asian Championships (Mongolia) while Cortez pocketed the gold medal at the 2019 Thailand Grand Prix and 2018 South East Asian Championships (Thailand), and the silver at the 2018 Asian Championships (Kazakhstan).
"We have really high hopes to place in the ranking by countries. It will definitely be a tough competition as a lot of countries are also preparing for the Filipino competitors, but we believe that the hard work that the athletes have done this year will pay off," said coach Allan Co, who together with John Baylon arrived in Mongolia last Wednesday.
Baylon, a nine-time SEA Games judo champion, has joined the jiu-jitsu coaching staff this year. (PNA)