First gold medal for Singapore as Noah Lim comes out top in ju-jitsu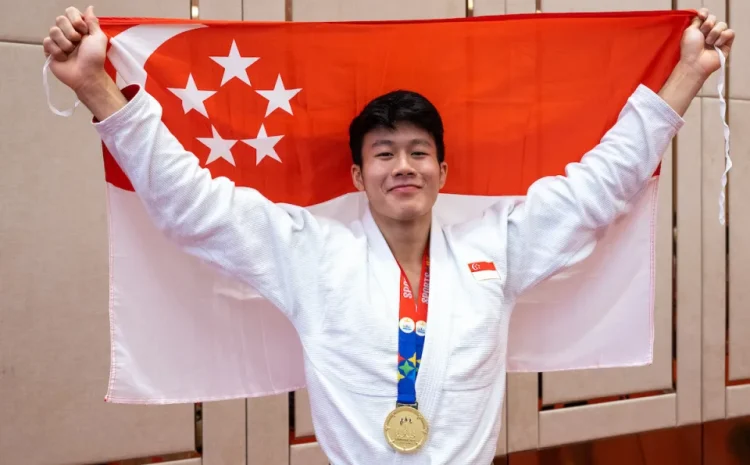 Even a dislocated finger could not stop ju-jitsu exponent Noah Lim from his relentless pursuit for gold.
With just one functional hand, Lim clinched Singapore's first gold medal of the Cambodia SEA Games on Saturday in the men's ne-waza gi Under-69kg. And it took only 45 seconds, as Lim showed his prowess on the mat by submitting Laos' Slayman Jedidiah Phomsavath in the final at the Chroy Changvar Convention Centre.
Already a two-time gold medallist after wins in 2019 and 2022, the 20-year-old said his latest victory is the "most meaningful" one given his injury.
He had dislocated his pinky finger last Sunday while training at Evolve's Far East Square facility. Before leaving for Cambodia on Tuesday, he visited a traditional Chinese medicine clinic and received acupuncture treatment and physiotherapy.
Nothing worked. And yet like a true champion, he took it in his stride.
Lim, who is still unable to bend his finger, said: "Of course I was very sad. But there are things you can control and things you can't control. I focused on what I could control. I did my best to rest, iced my finger, massaged it."
"I knew it would affect my game. I use my left hand a lot. It is my better hand. I was not at 100 per cent and I had to change my approach. There was some self-doubt so being able to pull through really means a lot to me."
In the final on Saturday, with Minister for Culture, Community and Youth Edwin Tong watching, Lim was a figure of composure even as the referee raised his arm to signal victory. Lim paid his respects to his opponent before embracing national coach Teco Shinzato.
There were seven competitors in the U-69kg category. On his way to the final, Lim submitted Vietnam's Nguyen Huu Khang in the preliminary round with an armbar before advancing to the semi-finals where he defeated Malaysia's Adam Akasyah. In the Hanoi Games final, Lim had submitted Adam with an ankle lock.
Lim made a winning debut at the 2019 Games in the Philippines in the U-62kg class, then only 17, before switching to the U-69kg category at the last Games in Hanoi.
On Sunday, he will have an opportunity to add a fourth gold when he competes in the men's ne-waza nogi U-69kg category.
Fellow ju-jitsu exponent Amirul Syafiq secured a joint-bronze medal in the men's ne-waza gi U-62 kg event after winning two of his four bouts on Saturday.
He was overjoyed to medal on his Games debut especially after the challenges he has faced, including testing positive for Covid-19 when he arrived in Cambodia on Tuesday.
Amirul, who became a father for the first time in April, said: "To make it here was hard. I've been juggling being a dad with training which meant plenty of sleepless nights. On the first day I tested positive for Covid-19 and I still found it hard to breathe while competing today.
"It's been a hard journey to win the bronze and probably the hardest I've had to work to get a medal, so I am really happy."
Lim and Amirul will also compete in the Sept 23-Oct 8 Hangzhou Asian Games later this year.
There are 558 athletes from Singapore who are competing in 30 sports in Cambodia. The contingent is looking to improve on the last medal haul of 47 gold, 46 silver and 71 bronze from the 2022 Hanoi Games.
At the last Games, Singapore's ju-jitsu squad finished with three medals – a gold, silver and bronze.