Asian Ju-jitsu medal won by son of laborer with help from the public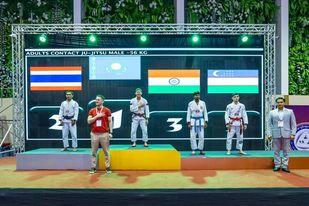 Although being qualified for the Asian Ju-Jitsu Championship 2023, the top competition of Ju jitsu in Thailand, Jai Prakash, a 19-year-old ju-jitsu player from Rudrapur, was about to withdraw since he could not afford to get to Bangkok.
A number of town residents responded to a social media post from Prakash's coach and the district association chief asking for support for the teenager, whose father is a daily wager, and raised about Rs 85,000 so that he could participate in the competition, which was held at Bangkok's Rangsit University from February 24 to 28.
In the end, Prakash not only traveled to Bangkok but also won the bronze medal in the fiercely contested men's 56 kg weight division. "That fulfilled a dream of mine. After years of ju-jitsu training, earning a medal at the Asian championship was a significant turning point in my career. I appreciate the help I received from everyone, he remarked.
Premchandra, Prakash's father and a construction worker, said TOI, "I am proud of my son's accomplishment. He put a lot of effort into succeeding, and the residents of our community helped him tremendously. The player's coach, Rishi Pal Bharti, stated that the competition had over 500 participants from 30 different countries, making it a fiercely contested event.
The support he received from the community and Prakash's commitment and hard work are both evidence of his accomplishment.


Prakash's triumph, according to Mr. Joshi Vinay, President of the Ju Jitsu Association of India, will encourage more young athletes to take up the sport. The Indian athletes took home a total of six bronze medals from the aforementioned competition. He stated that the competitors that did well will compete in the 19th Asian Games, which will be hosted in China this year.