An elegant opening ceremony for the seventh edition of the Asian Ju-Jitsu Championship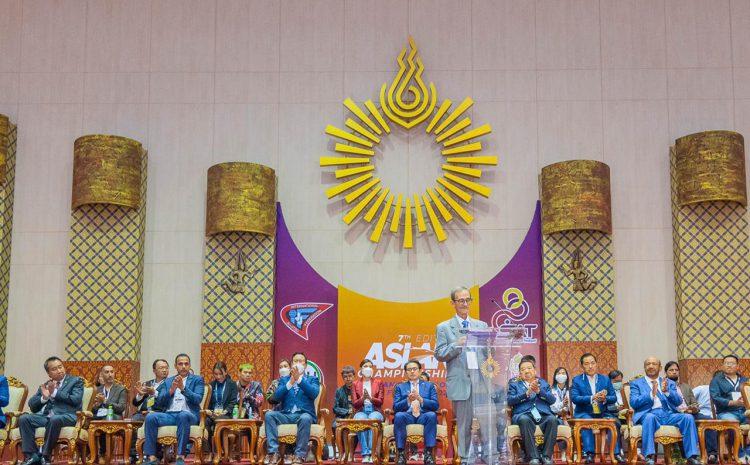 Thailand, February 25, 2023 // The Thailand Jiu-Jitsu Federation held an elegant opening ceremony for the seventh edition of the Asian Championship this evening at the Rang Sit University Hall in the Thai capital, Bangkok.
The opening ceremony was attended by His Excellency Kongat Yomoni, President of the General Sports Authority of Thailand, Panayotos Theodoropoulos, President of the International Jiu-Jitsu Federation, Itawin Orital, President of Rang Set University, His Excellency Mohammed Salem Al Dhaheri, Vice President of the UAE Jiu-Jitsu Federation and Head of the UAE Mission delegation, and Fahd Ali Al Shamsi, Secretary General of the two UAE Federations. And the Asian and a number of heads of the Asian national federations.
The opening ceremony included 4 segments, where the President of Rang Sit University delivered a short speech in which he welcomed the attendees from all Asian countries, and wished them a good stay and success in the competitions, and the organizing committee success in organizing.
Then Panayotos Theodoropoulos delivered a speech in which he expressed his happiness at the great success achieved by the AFC in its programs and tournaments, which contributed to the spread and development of the game and provided the best competitive environment that had an important role in creating many champions and stars, wishing continued success for its championships and competitions.. He thanked the Kingdom of Saudi Arabia. Thailand is a good host and organization quality.
Konjat Yomoni, Chairman of the General Authority for Sports, delivered a speech in which he thanked His Excellency Abdul Moneim Al Hashemi, President of the Asian Federation, for the support of the Continental Federation for national federations in Asia, including the Thai Federation, indicating that the Asian Jiu-Jitsu is currently witnessing a major boom in development and growth, and that he is proud that Thailand is Part of the successful system of the AFC at that stage.
The fourth segment of the opening ceremony was a display of the flags of the 30 teams participating in the tournament, amid applause and greetings from the fans in the hall.